Introduction of Secondary Schools Activities
To participate in the "Joyful Fruit Month" – School Fruit Promotion Project
School would form a teacher-led working committee to implement one or more school-based fruit promotion activities between November 2023 to May 2024 with the aim to increase fruit intake of students and teachers. The activities may take place in whatever nature and format so long as they are deemed suitable within the school setting. Examples of these activities include campus fruit party (teachers and students eat fruit together during recess or lunch time), poster design, slogan design, cheerleading slogan competitions, design of publicity materials, promotion of dishes with fruit in Home Economics lessons, project for Liberal Study, or even fruit-selling activities in schools or at the Lunar New Year Fair. The Joyful Fruit Month Secretariat (Secretariat) will contact the working committee of schools to provide appropriate coaching and support as necessary.
Participating schools can organise fruit promotion activities recommended by the DH and request the relevant materials these activities. Participating schools can
tick the appropriate box on the reply slip or enrolment form to indicate that they "would like to request materials from the DH". The DH will provide schools with a range of educational materials such as banners, posters, educational tools and online resources.
post up posters provided by the DH or relevant publicity materials prepared by students under their teachers' guidance.
send the event photos and descriptions to the Secretariat for sharing with other schools via the Joyful Fruit Month E-Newsletters and the "School Activity Photo Gallery" on the website (Activities Photos Submission Form can be downloaded from the website).
a certificate of appreciation will be issued to schools participating in the "Joyful Fruit Month", and the list of participating schools will be uploaded to our "Joyful Fruit Month" website.

Application for School Healthy Eating Promotion Fund
(Quota for the 2023/24 school year is full)
Each participating school may apply for a sponsorship of HK$2,000 maximum from the School Healthy Eating Promotion Fund of the Hong Kong College of Cardiology through the DH. Details and application forms are available on the website.
If you are interested, please send the application form with a list of particulars of the working committee members, together with the project and budget proposal on or before 31 December 2023 (Sunday). Places are limited. Please submit your application as soon as possible.
Upon receiving the application, the Secretariat will provide appropriate support and coaching to the working committee.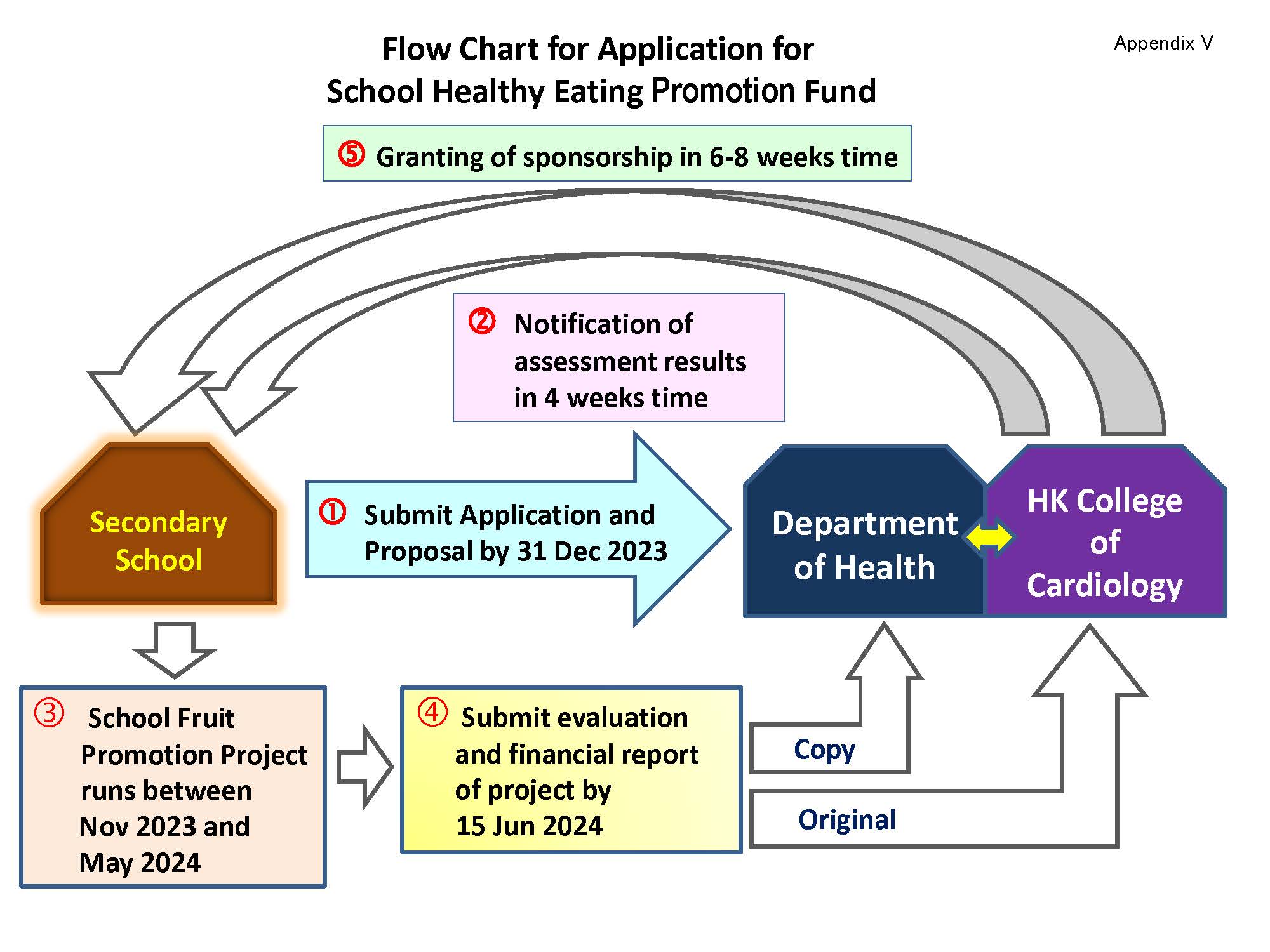 Friendly Reminder
The sponsorship does not cover reimbursement for food items (except fruits) and drinks that are being used as reward, or any items that may encourage students to take foods that are high in fat, salt or sugar content, including gift coupons. In addition, sponsorship will not be granted for purchase of gift coupons of any kind.
Registration
Documents and Resources for Download