To encourage schools to promote the information on healthy eating among schoolchildren, schools participating in the EatSmart School Accreditation Scheme can now obtain materials from the Department of Health for conducting activities to promote healthy eating in the 2023/24 school year (ie. on or before 31 August 2024). Each school can only submit one application in this school year.
Schools are only required to complete the reply slip that is stamped with the school chop and submit via email (email address: eatsmart_school@dh.gov.hk) or fax (fax number: 2781 2599) at least twenty working days prior to the date of the activity. The Secretariat will contact the school for confirmation within five working days upon the receipt of the application. If you do not hear from the Secretariat after the said period, please call the Secretariat (telephone number: 3151 7615) to follow-up. After conducting the activities, schools are required to submit at least 3 event photos to the Secretariat.
As there is only limited quantity of materials available, schools participating in the EatSmart School Accreditation Scheme will obtain the materials on a first-come, first-served basis. After receiving the confirmation from the Secretariat, schools can send representatives to collect relevant materials in person at the Secretariat (address: Units A-D, 8/F, China Overseas Building, 139 Hennessy Road, Wan Chai, Hong Kong).
Request of material reply slip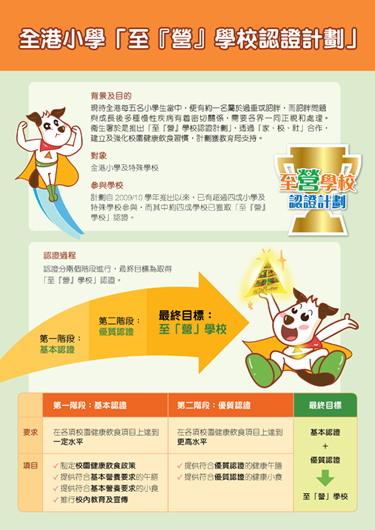 EatSmart School Accreditation Scheme Flyer
(Chinese Version Only)