Pomelo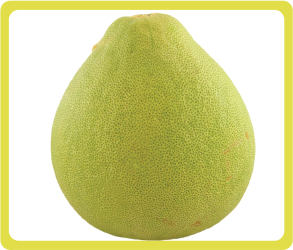 Major Growing Areas
Pomelos are one of the festive fruits for the Mid-Autumn Festival. They are widely grown in Chinese provinces such as Guangxi, Fujian, Jiangxi, Hunan and Zhejiang. They are also grown in Thailand, Argentina, Brazil, Cuba and Japan.


Varieties
It is estimated that there are a few hundred varieties of pomelos. The common ones include Shatian pomelos, Wendan pomelos, Nankang pomelos, Anjiang pomelos and Chumen pomelos from China, as well as Golden pomelos from Thailand.


Nutritional Values
Pomelos are rich in vitamin C, water and dietary fibre. Their pulp is divided into segments by bitter membranes, which are usually removed before eating.


Per 100 g (Approx. ⅙ pomelo)
Energy
40 kcal
Sugar
7.2 g
Vitamin C
59.0 mg
Dietary Fibre
1.3 g
Potassium
200 mg
Buying Tips
It is advisable to buy pomelos that have glossy skin, a pointed tip and a broad base. Pomelos can be stored at room temperature for 2-3 weeks. After being stored for a period of time, ripe pomelos will ooze a pleasant smell, and taste sweeter and more delicious than the freshly picked ones.


Interesting Titbits
All parts of a pomelo are considered valuable because its flesh is edible, its leaves can be used for body cleansing, and its skin can serve as a deodorant as well as a cooking ingredient. The skin of the better known Shatian pomelos is a frequently used ingredient in delectable Chinese dishes.


One Serving of Fruit is Equivalent to:
2 segments of pomelo