Mangosteen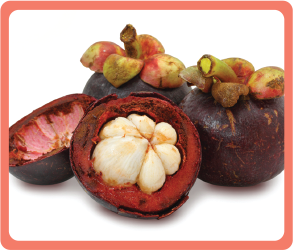 Major Growing Areas
Mangosteens, known as the "Queen of Fruits", are mainly grown in Southeast Asia.


Varieties
The mangosteen fruit is round in shape and has thick, hard rind that is deep purple in colour. Similar to persimmons, mangosteens have 4 stigma lobes at the apex. The flesh is refreshingly sweet and aromatic. Popular mangosteen varieties include seashore mangosteens and yellow mangosteens.


Nutritional Values
Mangosteens contain a variety of nutrients, e.g. dietary fibre, vitamin B complex, vitamin C and iron.


Per 100 g (Canned, syrup pack)
Energy
73 kcal
Vitamin C
2.9 mg
Dietary Fibre
1.8 g
Iron
0.3 mg
Buying Tips
It is advisable to buy deep purple, brightly clean, slightly soft and bouncy mangosteens that come with fresh-looking green stigma lobes. When choosing a mangosteen, gently press the rind with your thumb and index finger. If it makes a slight dent, the fruit is of good quality. Generally, mangosteens can be refrigerated for not more than a week.


Interesting Titbits
Durians and mangosteens are together called the "couple fruits" in Thailand. When one eats too many durians and creates too much "heat" in the body, he/she may eat a couple of mangosteens for soothing and "heat relieving" purposes.


One Serving of Fruit is Equivalent to:
2 small-sized mangosteens