Rambutan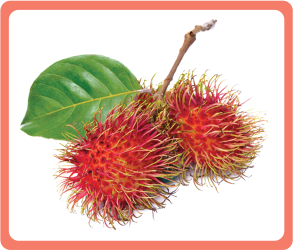 Major Growing Areas
Rambutans, belonging to the same family as lychees, are widely grown in Southeast Asian regions like India, Malaysia and Sumatra Island. A small number of rambutans are also currently cultivated in China. The plant's name, rambutan, is derived from the Malay word "rambut", which means hairy.


Varieties
Rambutans are divided into two types, i.e. reddish ones and yellowish ones. They are categorised according to the skin colour and thickness, as well as the length of fleshy pliable spines.


Nutritional Values
Rambutans have a rich vitamin C content, even higher than that of oranges and strawberries.


Per 100 g (Approx. 6-7 rambutans)
Energy
75 kcal
Sugar
15.7 g
Vitamin C
70.0 mg
Dietary Fibre
2.8 g
Buying Tips
It is advisable to buy vividly coloured rambutans that are firm to the touch. The fleshy spines should not be brittle. A rambutan is overripe if it becomes soft. The fruit can only be kept for a short time, so refrigeration is recommended. When stored at room temperature, rambutans should be eaten within 2 to 3 days.


Interesting Titbits
Rambutans taste sweeter and contain more sugar than lychees. Therefore, you should pay attention to the amount consumed so as to avoid excessive intake of energy or sugar.


One Serving of Fruit is Equivalent to:
½ bowl of rambutan pulp

Remark: One bowl = 250 – 300 ml