Longan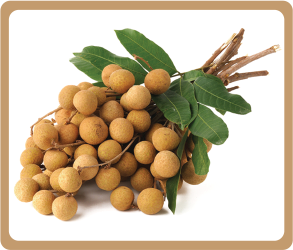 Major Growing Areas
Longans, also known as Guiyuan when preserved as dried fruit, are plants that are native to regions around Guangdong, Guangxi and Yunnan in China. Subsequently, they are cultivated in Southeast Asia. Longans grow particularly well in a warm and humid climate.


Varieties
Longans come in many varieties, including Dongbi (with large fruit, thick and crunchy pulp, very sweet and aromatic), Wulongling (with large fruit, thick pulp with less dietary fibre, juicy and very sweet), Shixia (with thick pulp, refreshingly sweet), Dawuyan and Baiqizaosheng.


Nutritional Values
Longans are a rich source of potassium and vitamin C. They have a higher vitamin C content than lychees, oranges, Shatian pomelos, strawberries and papayas.


Per 100 g (Approx. 10-12 longans)
Energy
60 kcal
Vitamin C
84.0 mg
Dietary Fibre
1.1 g
Potassium
266 mg
Buying Tips
Fresh longans have a rough, dull-coloured shell and are firm to the touch. The heavier they are, the juicier and better the pulp is. Longans that have a glossy yellowish shell are no longer fresh.


Interesting Titbits
Longans can be dried with or without the shell. Dried longans without shell are known as Guiyuan, which is a common ingredient in Chinese medicinal food therapies and sweet soups.


One Serving of Fruit is Equivalent to:
½ bowl of longan pulp

Remark: One bowl: 250 – 300 ml