Jackfruit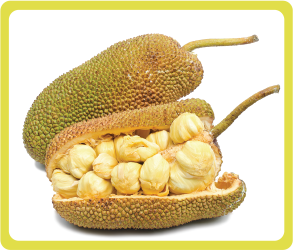 Major Growing Areas
Jackfruits, also called jack trees, are evergreen trees native to regions around India and Malaysia. At present, they are also cultivated in places such as China, South Pacific islands and Brazil. Jackfruits give off a strong scent. Similar to durians, jackfruits are a polarising fruit that people either love or hate.


Varieties
There are dozens of jackfruit varieties, which are mainly divided into dry-packed ones and wet-packed ones. The dry-packed ones are more common and contain crunchy, sweet and relatively drier pulp. When the wet-packed ones are cut open, they reveal paste-like pulp, which is mainly used for making jam.


Nutritional Values
Jackfruits are rich in potassium. They contain more sugar than regular fruits.


Per 100 g (Approx. over ½ bowl of diced jackfruit)
Energy
95 kcal
Sugar
19.1 g
Vitamin C
13.7 mg
Dietary Fibre
1.5 g
Potassium
448 mg
Buying Tips
Since jackfruits are large in size, they are seldom sold as a whole fruit. Instead, their pulp is usually sold in small packs. It is advisable to buy pulp that is orange with a tinge of yellow. The pulp of an overripe jackfruit is deep-coloured and has a less intense smell and soft texture. Jackfruit pulp has to be refrigerated to keep fresh.


Interesting Titbits
A piece of egg-sized jackfruit contains as much sugar as a medium-sized orange. Patients with diabetes should be cautious.


One Serving of Fruit is Equivalent to:
2-3 small pieces of jackfruits

Remark: One bowl = 250 – 300 ml