Papaya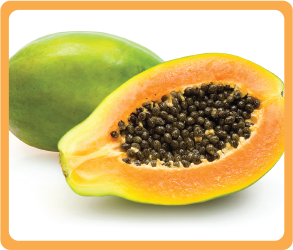 Major Growing Areas
Papayas, also known as the "Fruit of Longevity", are mostly cultivated in places such as Mexico, Peru, Brazil, Indonesia, Thailand, Vietnam, some regions in China (e.g. Guangdong, Guangxi, Fujian and Hainan Island) and Taiwan.


Varieties
Papayas come in many different varieties. The American ones include Solo, Blue Stem and Betty, etc. Among the Chinese varieties are Lingnan papayas, Suizhonghong papayas and Thai "red papayas".


Nutritional Values
Papayas are rich in β-carotene and vitamin C.


Per 100 g (Approx. over ½ bowl of diced papaya pulp)
Energy
43 kcal
Sugar
7.8 g
Vitamin C
60.9 mg
Dietary Fibre
1.7 g
β-carotene
274 μg
Buying Tips
It is advisable to buy yellow or yellowish-orange papayas that are intact, plump without any dark spots and bruises or a rotting pedicel. Generally, the best time to eat a papaya is when the fruit is more than half ripe. When buying a papaya, you can touch it with your hands. If the fruit is firm and bouncy to the touch, its flesh is smooth and delectable.


Interesting Titbits
Papayas contain papain, which helps break down protein, hence promoting digestion and absorption.


One Serving of Fruit is Equivalent to:
½ bowl of diced papaya pulp

Remark: One bowl = 250 – 300 ml