Raspberry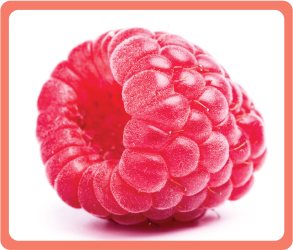 Major Growing Areas
Raspberries, also known as Rubus idaeus, are widely grown in Europe and North America. They are also distributed over various regions in China, yet with relatively smaller cultivation and harvest quantities.


Varieties
At present, the total number of raspberry varieties around the globe is estimated to be 450-odd. The commonly seen ones are red, yellow and black in colour.


Nutritional Values
Raspberries are rich in dietary fibre, iron and various nutrients, e.g. vitamin C and anthocyanins.


Per 100 g (Approx. over half bowl of raspberries)
Energy
52 kcal
Sugar
4.4 g
Vitamin C
26.2 mg
Dietary Fibre
6.5 g
Iron
0.7 mg
Buying Tips
It is advisable to buy vividly coloured and intact raspberries that are yet to be softened. Since raspberries are easy to perish, they should be refrigerated immediately after purchase and eaten within the next couple of days.


Interesting Titbits
Researches in recent years show that the raspberry has an anti-inflammatory effect. Nevertheless, more clinical researches are required to verify its potency.


One Serving of Fruit is Equivalent to:
½ bowl of raspberries

Remark: One bowl = 250 – 300 ml