Lemon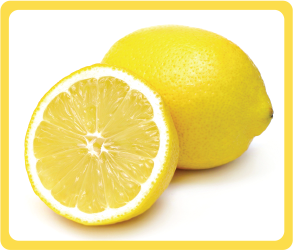 Major Growing Areas
In China, the eastern part of Sichuan Province produces the greatest number and highest quality of lemons, followed by Guangdong, Guangxi, Fujian and Zhejiang. Reputable lemon-producing regions overseas include Italy, as well as Florida and California of the United States.


Varieties
There are dozens of lemon varieties, e.g. Guangdong lemons and Sichuan lemons. The most commonly found and better known ones in overseas countries are Eureka and Lisbon.


Nutritional Values
Being a rich source of vitamin C and citric acid, lemons help increase appetite with its refreshing sour flavour. Individuals with poor appetite can try to drink a glass of lemon water.


Per 100 g (Approx. 2 small-sized lemons)
Energy
29 kcal
Sugar
2.5 g
Vitamin C
53.0 mg
Dietary Fibre
2.8 g
Iron
0.6 mg
Buying Tips
Fresh and juicy lemons are firm, heavy, glossy and deep yellow in colour. The light-coloured ones are riper, less juicy and have less intense flavour.


Interesting Titbits
Lemon juice is rich in vitamin C, which has an anti-oxidising effect. To prevent fruits from turning brown when they are cut open and exposed to the air, you can sprinkle lemon juice over them.


One Serving of Fruit is Equivalent to:
2 small-sized lemons