Nectarine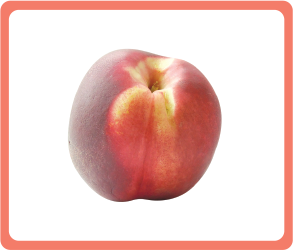 Major Growing Areas
Nectarines are mainly grown in China and California of the United States.


Varieties
The white- and yellow-fleshed varieties from the United States are more well known.


Nutritional Values
Nectarines contain various vitamins and minerals, and are high in water content.


Per 100 g (Approx. over ½ medium-sized nectarine)
Energy
44 kcal
Sugar
7.9 g
Vitamin C
5.4 mg
Dietary Fibre
1.7 g
Potassium
201 mg
Buying Tips
Both nectarines and honey peaches are categorised as peach. However, nectarines can be distinguished by their smoother, glossier and fuzzless skin as well as crunchier flesh.


One Serving of Fruit is Equivalent to:
1 medium-sized nectarine