Prune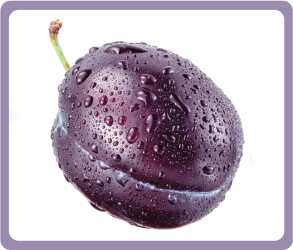 Major Growing Areas
Prunes are mainly grown in California of the United States. Some are also grown in Southern China.


Varieties
Prunes are mainly divided into two categories, i.e. red ones and blue ones. They can either be eaten fresh or preserved by drying in the sun.


Nutritional Values
Prunes are quite high in dietary fibre, and the dried ones are especially rich in potassium and iron.


Per 100 g (Dried prunes)
Energy
240 kcal
Sugar
38.1 g
Dietary Fibre
7.1 g
Potassium
732 mg
Iron
0.9 mg
Buying Tips
Fresh prunes are oval-shaped and sweet-smelling. It is advisable to buy plump, glossy prunes without any bruise or pressed mark. When choosing dried prunes, compare the contents of ingredient lists on the package and select those without added oil, salt or sugar.


Interesting Titbits
Prunes are rich in dietary fibre and sorbitol. Sorbitol can stimulate intestinal movements and has a mild laxative effect. While drinking prune juice helps improve constipation, overdrinking should be avoided. It is advisable to drink 50 to 100ml per day.


One Serving of Fruit is Equivalent to:
1 tablespoon of dried prunes