Apple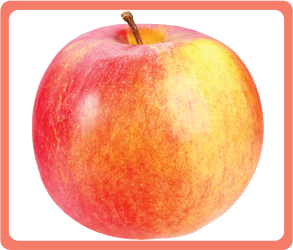 Major Growing Areas
Apples are grown in places such as Xinjiang, Shaanxi and Shandong in China, as well as Japan, the United States and France, etc. Apples originating in China are called "Chinese pear-leaved crabapples".


Varieties
It is estimated that there are a few thousand varieties of apples, most of which are red, green and yellow in colour. The better known ones are Red Delicious, Golden Delicious and Fuji apples.


Nutritional Values
Apples are rich in dietary fibre, including both soluble fibre and insoluble fibre. The former can help the body control the sugar and cholesterol levels in the blood. As for the insoluble fibre, it can promote bowel movements and help prevent constipation. Consuming the fruit with its skin can increase dietary fibre intake. Take a medium-sized apple as an example, you can double your dietary fibre intake if you eat it together with its skin.


Per 100 g (Approx. ½ medium-sized apple)
Energy
52 kcal
Sugar
10.4 g
Vitamin C
4.6 mg
Dietary Fibre
2.4 g
Buying Tips
It is advisable to buy intact, plump apples that have bright red, glossy skin.


Interesting Titbits
Since apples come in a myriad of varieties and sizes, the definition of "1 serving" may vary, depending on the variety. 1 serving of fruit is approximately equivalent to 2 small-sized Gala apples, 1 medium-sized Red Delicious or ½ large-sized Fuji apple.


One Serving of Fruit is Equivalent to:
1 medium-sized apple