Honeydew melon

/

Hami melon

(Cantaloupe)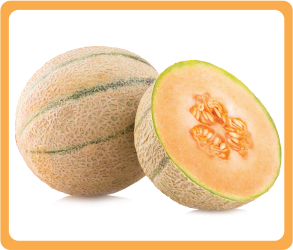 Major Growing Areas
Honeydew melons are grown in countries such as the United States, Italy, Israel, Japan and South Africa, etc.

Hami melons (Cantaloupes) are widely grown in Xinjiang of China.


Varieties
Both honeydew melons and Hami melons are thick-skinned types of muskmelon, but there is a slight difference in classification of varieties.

Honeydew melons: Chinese varieties include Bailan melons and Zui melons from Lanzhou of Gansu province, which are different from the European varieties.

Hami melons (Cantaloupes): Hami melons of Xinjiang in China


Nutritional Values
Honeydew melons contain vitamin B complex, vitamin C and potassium, etc.


Per 100 g (Approx. over ½ bowl of diced honeydew melon)
Energy
36 kcal
Sugar
8.1 g
Vitamin C
18.0 mg
Dietary Fibre
0.8 g
Potassium
228 mg
Hami melons are especially rich in β-carotene.



Per 100 g (Approx. over ½ bowl of diced Hami melon)
Energy
34 kcal
Sugar
7.9 g
Vitamin C
36.7 mg
Dietary Fibre
0.9 g
Potassium
267 mg
β- Carotene
2020 μg
Buying Tips
When buying a honeydew melon/Hami melon, it is advisable to see whether its rind colours, patterns, stripes and netting are clearly visible, whether its pedicel has softened, and whether it has a pleasant aroma.


One Serving of Fruit is Equivalent to:
½bowl of diced honeydew melon or Hami melon.

Remark: One bowl = 250 – 300 ml